Are you looking for a secure and inexpensive partner or a waste disposal company for your move to Berlin?
Not a good idea: moving without a moving company
The new class B driver's license only allows vehicles with a total weight of up to 3.5 tons to be driven. To set up a 2-room apartment without a kitchen, however, you need at least a 7.49-ton truck. A driver with a class 3 driver's license (driver's license obtained before 2013) or C is required. If your apartment is larger, there must be a large truck or trailer, unless you want to drive the route Berlin-Düsseldorf, i.e. almost 600 km, several times.
Also keep in mind that you have to return the truck in Berlin, because one-way rental is usually not offered. So the move will go like this without a moving company from Berlin:
Conclusion: You have stress for weeks and still have to raise over 1,000 euros for the move. It gets a little cheaper, but more stressful, if you manage to organize a move from Düsseldorf to Berlin at the same time.
What happens to furniture and household items that you no longer need?
You have two options, disposal or storage. The latter makes sense if you initially only find a smaller apartment in Düsseldorf and then later everything needs to be accommodated in a large area.
Tip: Rent a container or storage space in Düsseldorf and have the entire facility brought to this city. The moving company unloads some of it in the warehouse and the rest in the new apartment. As soon as you find a suitable apartment, cancel the storage and commission a removal company from Düsseldorf to bring everything into the new apartment.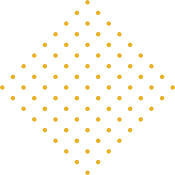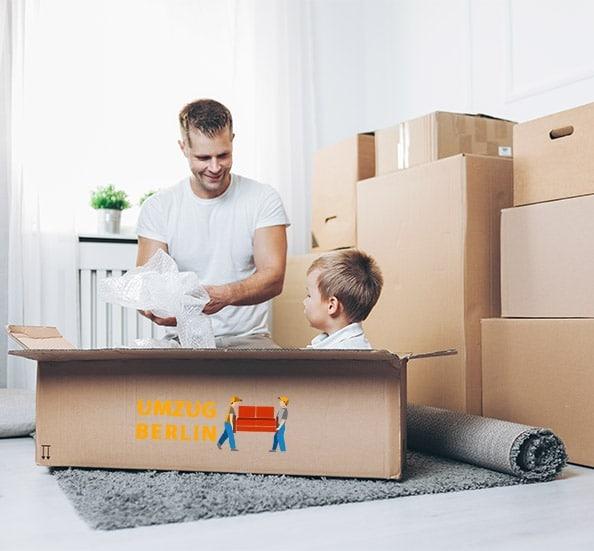 The move from Berlin to Düsseldorf can take place so stress-free
Engage a professional who, in addition to fast transport, also provides you with many well-trained moving helpers. They usually manage to dismantle the entire facility in Berlin and rebuild it in Düsseldorf in one to two days. If you leave the move entirely to a specialist company, you will not have any stress whatsoever.
You leave the furnished apartment in Berlin and enter an apartment in Düsseldorf that is furnished according to your ideas. Even Grandma's valuable Meissen porcelain is back in the showcase.
Say goodbye to your friends in Berlin and take a leisurely drive to Düsseldorf. As the Berlin apartment can be vacated quickly, it is ready for occupancy immediately and a new tenant can move in. So you save double rent payments. If a renovation and final cleaning is desired, the professional will also take over this work.
Help, the piano is too bulky for the stairwell
Professionals only know solutions. For example, a moving company from Düsseldorf can set up a furniture lift to bring the instrument into the apartment through a window. Let the moving company from Berlin know in good time if bulky items are to be transported. This organizes the piano transport from apartment to apartment.
Find parking solutions for the move
When moving from Berlin to Düsseldorf, you often run into unexpected problems. One of them is to find a parking space for the moving van right next to the house.
In large cities, apartments are often located in traffic-calmed areas where driving is banned. Sometimes there are also general no-stopping restrictions or parking spaces reserved for residents. If free parking is allowed, all spaces are usually occupied.
Regardless of the circumstances, the moving van can usually be parked directly in front of your door with special permits. There is also the option of setting up a single or double-sided no-parking zone. The removal company can usually legally post official signage upon request.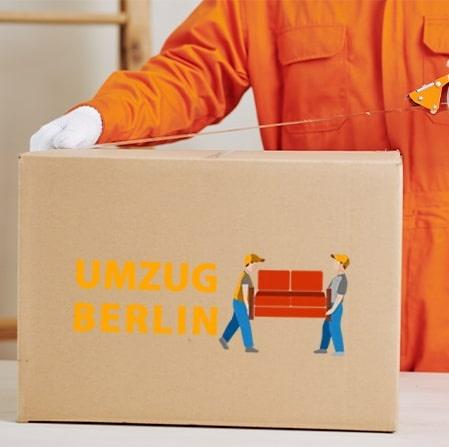 Cost of moving from Berlin to Düsseldorf
Nobody can give you specific prices for moving from Berlin to Düsseldorf without knowing the exact scope of the work. In addition to the goods to be transported, the accessibility of the apartments is also decisive. It also depends on which additional services you want, such as renovations or clearing out a cellar.
Two helpers move the contents of a room into the truck in about two hours. You can estimate 40 euros per hour and person. The same applies when moving from Düsseldorf to Berlin, as the prices for helpers are in a similar range.
Tip: Get a binding offer at a fixed price, then you will know exactly what to expect.
Sensible savings measures when moving
You can usually save with little effort if you don't renovate your old apartment and only take what you really want to keep with you to Düsseldorf. Therefore,
make sure that you are obliged to renovate when you move out according to the latest legislation. In addition, you should clear out the clutter a long time before the moving date or give away useful items that you no longer want to keep.